Happily for us, the carpet people were able to install our master bedroom carpet a day earlier than planned! They did the job in about an hour and it looks beautiful. It's nice to know that we have our master "suite" almost all finished now. Of course, there is still a lot of trim to be added, as well as bedroom and bathroom doors, and cabinet doors, etc, but the major parts of both rooms are all done. Yay! Here's a picture: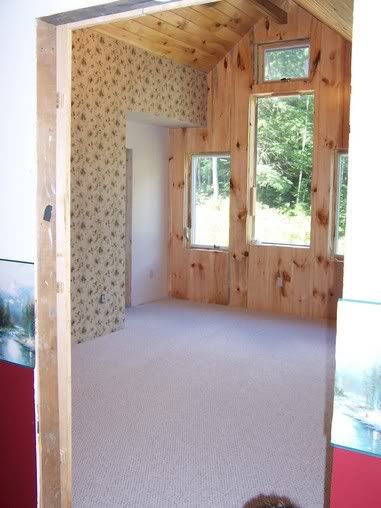 To celebrate our new carpet, we bought steak and cheese subs from the little village store for supper. I had heard that the new owner there makes awesome pizza and subs, and sure enough, the ones we had were delicious. I'm ashamed to say that I think this was my first time in that store in all of my 28 years . . . in spite of the fact that I went to school right down the road from it for six years, and we had friends that lived right next door to it. I've been studying up so much lately on being a good wife, and this silver sign by the door of the store just jumped out at me. It says: "This business is dedicated to my inspiring wife, Rose." I thought, Wow! What a great example of a wife who is a true helper to her man. I like how he said "my inspiring wife"--I'm sure he thinks she is wonderful, beautiful, sweet, etc., but he chose the word "inspiring" and it makes me think that here is a woman who stands behind her husband, encouraging him to make his dreams come true. Together they have put some new life into an old country store, and seem to be having a lot of fun doing it. What a great example to me! I never even saw the woman, but I could tell that her husband is a happy, energetic person and I bet it's partly because he has her support, 100%.
Well, I am headed off to do the dishes and then hopefully to bed. It's a lovely, cool evening here and we are really enjoying having some good sleeping weather for a change. :) Here's a new picture of Sam, too. He loves to play with (and in) my laundry basket!