Today Jim and Elijah climbed Mt. Washington, the highest peak in the Northeast at 6,288 feet. They had a perfect day for the climb; hot, but not too hot, bright and sunny with some clouds, but nice and clear (not humid and hazy.) Jim came home tired, but glad he went. Here are a few pictures he took on the climb:
A waterfall along the way
A beautiful view
At the top!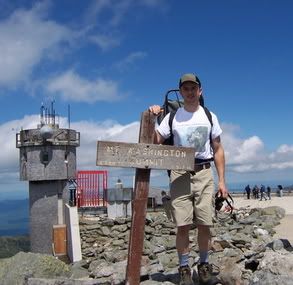 Sam and I enjoyed a quiet day at home. I was able to get some organizing/throwing away done, and set aside some more things for a future yard sale. I also balanced the checkbook and made a blueberry cream cheese pie out of the new Taste of Home magazine. Actually, I'm still waiting for the topping to cool so I can put it on the middle layer. I'm sure it will be yummy when we get to try it tomorrow! Well, I'm headed to bed soon. It will be an early morning tomorrow, as usual for a Sunday!