We had a great time today! The weather was perfect, nice and hot, but with a pretty good breeze, and the water was not too freezing, either. Sam spent most of this time playing with his toys (and our friends' toys) in the sand, sometimes in the water a little bit. He wasn't too interested in spending a lot of time actually IN the water today, but I figure that will come later. I kept slathering him (and me) with sunblock, and I think that kept both of us from getting too red. I noticed my shoulders are a little pink, but I think Sam has Jim's tanning skin because he is just getting a nice light brown color.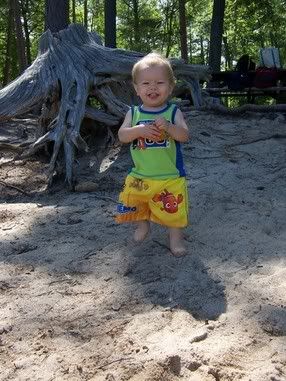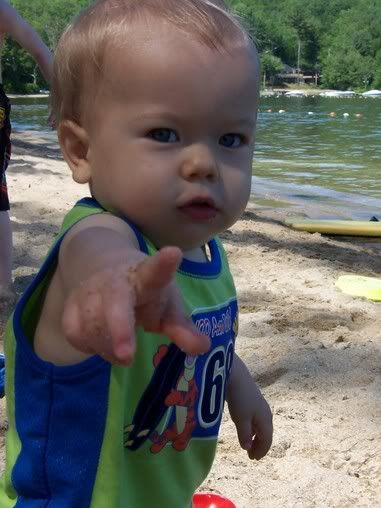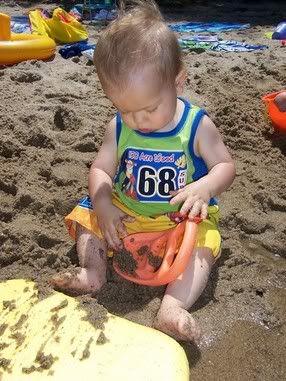 We happened to meet up with my sister-in-law and nieces, who were there with some other friends, so that added even more fun to the day! We decided we'll have to plan a day to all go there together; the kids had such a good time playing with each other. I did remember the camera, so here are some pics!
When I got home and checked the mail, our tax refund had arrived. All $39.34 of it!! :D But it's seriously exciting for us, because this is the first year since we've been married that we have gotten a refund! (One of the downsides of being self-employed.) Hmmm, I guess we'll have to come up with something wild and extravagant to spend it on . . . :) We also had a message on our phone from our "contact with the NRCC Business Advisory Council," inviting us to the annual dinner with President Bush. I haven't called back about that one yet . . . That would be very cool, but somehow I doubt that the dinner is held anywhere nearby to us! We will definitely have to find out, though!
Blessings of the Week
As we celebrated Father's Day, I was reminded once again of how blessed I am to have such a wonderful husband, who is also such a fantastic daddy to our son. It has been so special to watch the bond between the two of them grow and grow over the past year and 3 months. The older Sam gets, the more fun he and Jim have together. I just love watching them play and interact. So I guess this is my blessing for this week, and for always: my family!! :)