Okay, I'm so excited now!! Thanks to my computer-savvy
brother-in-law
, I now have a list of links, located to the left of this entry. Isn't this cool?!! :D I will be adding more as time goes on; just don't have the time or energy to do more with it tonight. But he got it all set up for me and I'm so happy to have it there. If any of you have a blog that you would like me to add to the list, let me know! I understand that a lot of people like to keep their blogs/websites more private, and that's fine, but I would be happy to add any that want me to. I will add some favorite sites of mine in the future, that I hope others will enjoy. I'm really having fun with this blog stuff! :)
House Progress
Between Jim and Elijah, quite a bit got done on our house this weekend. They worked on painting in the living room, and started putting up the wallpaper in the master bedroom. Here are some pictures of their accomplishments:
We had a little trouble getting the wallpaper to stick well on a couple of the corners. We'll figure out something to keep it up there!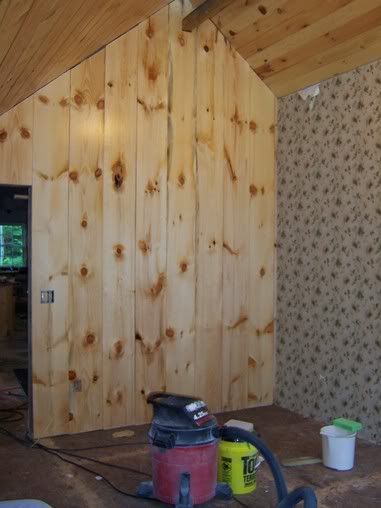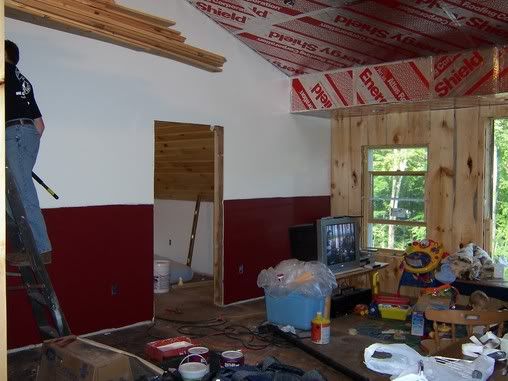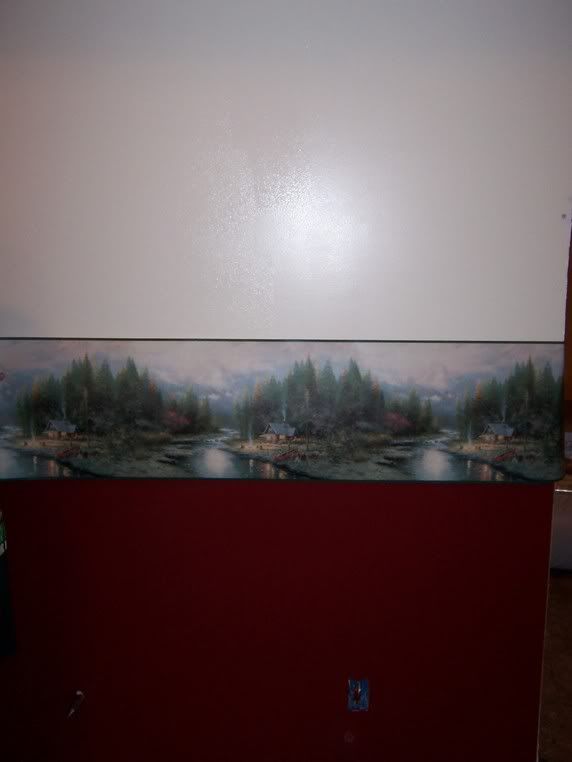 In the picture above, I'm holding up our living room border between the 2 paint colors, to show what it's going to look like (eventually!). I think it's going to look nice.
My dad also got more of the mudding/taping done, so more of the sheetrock will soon be ready for painting. It's really exciting to see things moving along!
Mayberry
We've been having a blast this week watching some Andy Griffith episodes which my in-laws sent us. I just love old shows like that. I get such a kick out of the way Andy, Barney and Opie all interact with each other. Jim and I love Andy's parenting style with Opie, too! I'm glad they put all these old shows on DVD now, since there are very few good family shows like that around nowadays. Anyone else have any old shows they enjoy? Post me a comment and let me know! :)
"Control Journal"
I got inspired to spiff up my "control journal" this weekend. This term (a la
FlyLady
), just means a notebook or binder that you use as sort of a control central for your home. I use it to keep lists of cleaning chores, menu planning stuff, daily routine lists, internet info/passwords, etc. Some people keep emergency phone numbers, takeout menus, and other things in theirs. I'll probably get around to adding that kind of stuff eventually. All I did this weekend was to make a new front cover and spine (I use one of the clear view binders), and sort through a lot of the papers inside, finding new homes for some of them and organizing the rest. I'm hoping that the new cover will motivate me to actually use it more. :) Here's a picture of how it turned out: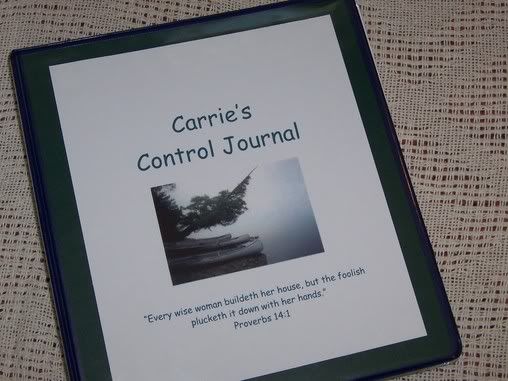 Wrapping Up
In Sam news, we taught him how to moo like a cow this weekend. Lately every animal he sees (in a picture or in real life) has been "woof woof," according to him. I decided we better work on teaching him some more animal sounds, so I started with a cow. He got the hang of it really fast! We'll have to add more animals now and then to give him a bigger repertoire. :) (I have no idea if I just spelled that right or not!)
Well, I better finish up my tea and get ready for bed. Sam and I are planning a trip to the beach with some friends tomorrow, so we have a busy day ahead. It will be fun to see how he enjoys the lake this year! He did like it last year, but this summer I think he'll "get it" a lot more and actually be able to play in the sand and water. I'll make sure to take some pictures (assuming I remember to bring the camera)! Hope everyone is having a wonderful week so far!!