It's amazing how quickly the weather changes around here. Just 2 days ago I was writing about how hot and humid it was, and today I'm sitting here in a sweatshirt, with all the doors and windows shut, thinking about making myself my second cup of tea for the day. It's in the mid-50s right now. The cold front is a blessed relief!
Yesterday was the first day in a while that I didn't mind turning on the oven, so I made some whole grain English muffin bread, and later, another rhubarb pie. A traditional one, this time. Both things turned out yummy! There is something about making homemade bread that is very satisfying . . . I think because it's such an old-fashioned, made-with-love thing to do. I don't make bread very often, and when I do, it is usually done with the bread machine, which is a great invention and does make very nice bread. But yesterday I was in the mood to bake, and I had found this good sounding recipe, so I just went for it. It was actually really easy because there was no kneading involved, and I used my Kitchen Aid to mix the dough . . . so I guess it wasn't a truly old-fashioned process, after all! :) Oh well, the end result was nice. :)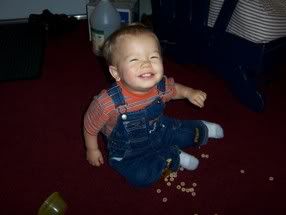 More Thoughts on Prayer
It's been a while since I shared a quote about prayer. Here's one from Abraham LIncoln: "I have been driven many times to my knees by the overwhelming conviction that I had nowhere else to go. My own wisdom, and that of all about me, seemed insufficient for the day."
Yesterday, as I continued through the study guide for "A Woman's Call to Prayer," I wrote these thoughts in my journal:
I was reminded that God wants me to pray. He desires that close fellowship with me, just like I desire it with my friends. He is grieved when I put distance between us. He wants me to come and talk to Him, to ask Him about my needs, to make Him a personal part of my life. To me, this is one of the most awesome truths about God: that He is a personal God. Even though He is everywhere, in control of the universe, over all the affairs of mankind, and literally the ruler of all, yet He desires a personal relationship with me, and with each one of His children. It's an incomprehensible thought.
This & That
I happened on a couple neat sites today that some of you ladies may enjoy. I think I've figured out how to link to sites now, so here goes:
Biblical Womanhood Online
The Old Schoolhouse
For you homeschooling families out there, the second link (The Old Schoolhouse Magazine) is doing a special promotion where if you sign up for a 2 year subscription, you can get 19 free gifts worth a total of $300. Looks like a good deal. I've never seen the magazine, but from what I read on the website, it sounds like a great resource. I'm tempted to subscribe myself, only I don't know if I really need to spend the money yet, since I won't have any school age kids for several years! Which reminds me, I think I may eventually need to make another "fat file" on the topic of homeschooling! Has anyone else thought of their fat file topics yet? If so, please share!! :) Can you tell I'm fishing for comments again? :)
Well, I think I had more to write about, but I need to get going now and think about supper, so we can hopefully make it to church tonight. Oh, I almost forgot to share my blessing for this week--you all are going to laugh--but I discovered I've lost 2 pounds! Don't know how I did it, but it is a blessing!! :D
Hope everyone is enjoying a healthy and happy week!