After several gorgeous days of sunshine and high temps, we're back to clouds and cool breezes. Actually, the coolness is a pleasant change. And at least it's not actually raining . . . yet. Just give it a minute. :)
I just put Sam down for his second nap of the day, so I figured I better come straight here and post, or probably it wouldn't happen till late tonight. I can't believe he's sleeping again; he already took an almost-three-hour nap this morning. (I'm not complaining!) Maybe he's going through a growth spurt. I just have to share this picture, taken a few weeks ago. It's one of my favorite ones of Sam and me together.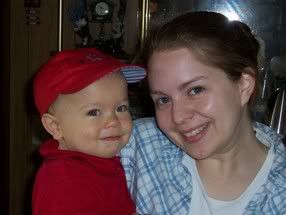 We spent some time throughout the week over at our house. The latest thing we accomplished is getting primer on the lower half of most of the living room wall. We picked out paint colors at Home Depot on Friday night. We are going with a really dark red (more like maroon) on the lower half of the wall, and a cream color for the upper half. The 2 colors will be divided by a beautiful Thomas Kinkade cabin border. I had 2 greens all picked out and then I found out that Jim really doesn't like green for walls! Plus, as he pointed out, green wouldn't go too well with our furniture. So we put our heads together and came up with Plan B. I hope we will like it! Actually, I think it will go together really nice. At Home Depot we were able to talk with a very knowledgeable lady at the paint counter. She recommended that with such a dark red, we use a tinted primer underneath it. Otherwise we would have to do a ton of coats to get it as dark as we want it, but this way it should just take 2 or 3. We were really glad she told us! We got the tinted primer (which looks purple on the wall) and hopefully we will get to start on the paint soon. We also decided to do wallpaper in part of our bedroom; I had found this really beautiful woodsy wallpaper that I fell in love with, so we ordered that and a matching border. Hopefully that will arrive this week and then we can get that put up, too. We will just paint the rest of the room and tie it together with the border. I'm thankful because I'm really starting to get a vision for what I want things to look like in the house. One step at a time, we're getting there! Here are a couple pics of some of Jim's handiwork:
Laundry room: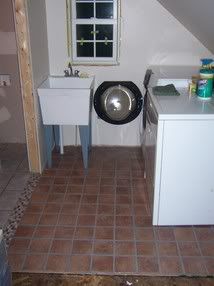 and entry area by the french doors: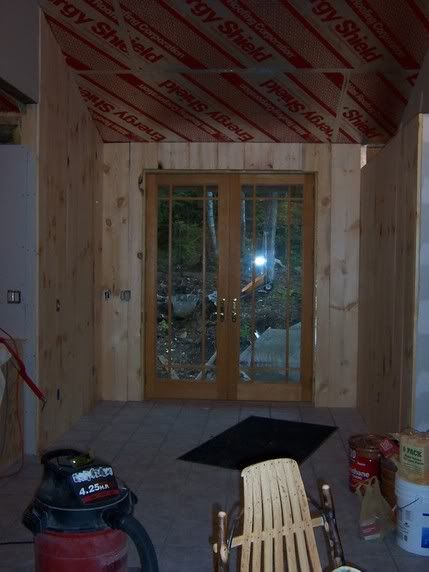 Rhubarb Pie
Some generous little elf recently left a bag of rhubarb on our front steps, and I'm finally getting around to making something with it. My plan (for later today, because I have to go to Walmart for some extra ingredients) is to make "Letitia's Rhubarb Pie". I have no idea who Letitia is/was, but this is a yummy recipe that my mom found in a past issue of "Cook and Tell" newsletter. (Gail and Mrs. N, if you are reading this right now, I know you are laughing because of all our recent discussions of cooking and telling . . . :D) Anyway, this is a super yummy dessert that I know everyone will now want to try just because of my delectable description of it--unless you hate rhubarb, that is, in which case you can just skip over this part! :) Here goes:
Crust:
1 c. flour, 2 T. powdered sugar, dash salt, 1 stick butter
Sift together 1st 3 ingredients. Cut in butter with pastry blender. Press mixture into a 9" pie pan. Bake 15-20 min. in preheated 350 degree oven.
Filling:
3 egg yolks, 1/2 c. whipping cream, 1 c. sugar, 2 t. flour, dash salt, 2 1/2 c. diced rhubarb
Beat egg yolks lightly. Add cream, sugar, flour and salt. Beat just till blended and thickened. Fold in rhubarb. Pour into baked crust. Bake in preheated 325 (note the temp. difference!) oven for 40-50 min. till set. Serve at room temp.
This pie is absolutely delicious and just melts in your mouth. And it's really easy, too! The only time consuming part is chopping the rhubarb. If you are in the mood for a sweet, fluffy, taste of summer, go find yourself some rhubarb (or find yourself a little rhubarb elf like mine) and start baking! :) By the way, if that little elf happens to be one of my readers (and I have a suspicion who it is), I must say a belated and heartfelt THANK YOU!
Blessings of the Week
I realized I forgot to share a blessing of the week last time, so I guess I better write down 2 for today! One would have to be the exciting progress on our house and our (hopefully imminent) upcoming move. I was thinking back to last year and realizing how far we have come on it in just over a year, and that made me realize that though I'm impatient, it really is coming along fast. At this time last year, I don't think we even had any of the rooms framed in yet, and now we are all the way to painting several of them!
My other blessing is the book I've mentioned several times before, "Created to be His Help Meet," which I'm continuing to work my way through. I have to say that God is using this book in my life in a huge way, particularly regarding my attitude toward my husband and my desire to help him in every way possible. I guess you could say that I'm undergoing an "attitude adjustment" in a lot of areas. It is really just what I needed right now. I have always thought that we had a remarkably awesome marriage (and we have), yet now I am seeing so many ways that God can make things even better, just by helping me shape up my attitude and my willingness to serve.
Coming Up . . .
At the end of the week, I'll be getting together with a good friend who I haven't seen in 2 years (she lives in Germany now), so I'm really looking forward to spending some time with her. Then on Friday night we will be going to my 10th class reunion at DCA, which hopefully will be a fun time as well. It will be interesting to see how many of the 20 of us who graduated together show up. The last reunion I went to was my 5 year, and quite a few made it to that one. I'm sure I'll have some stories to post about it next week!
Last but not least, here is another picture of Sam, taken yesterday. He was really hamming it up for the camera again (as you can see). This one makes me laugh every time I look at it! :)