We are slated for a week or so of rainy weather here in the Granite State. Actually, we had quite a bit of rain off and on last week, as well. It has the effect of dampening one's spirits somewhat, but I'm trying to stay thankful because I'm sure it's needed. On the plus side, it IS nice to see everything greening up around here; most of the leaves are now out, and everyone's lawns are looking happy. In fact, I have the feeling we'll be needing to mow for the first time once the rain stops! Some folks around here already have mowed for the first time this year.
So to keep myself cheerful in spite of the gloomy weather, I made sure to keep music playing all day, baked some banana bread, and called a couple friends, and emailed two others. I just got Sam down for a late afternoon nap about half an hour ago. Then I made a cup of tea, enjoyed a slice of still-warm-from-the-oven banana bread (anyone drooling yet?), and sat down to play on the computer for a few minutes and then came here to write. Oh, and I'm uploading some new pictures of Sam, too, hopefully to include in this entry. If nothing else brings sunshine to your day, I think these will!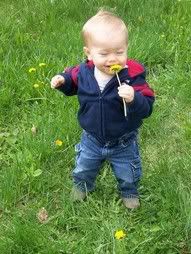 We had a nice weekend. On Saturday, Jim babysat for a few hours while I went to a church ladies' luncheon with my mom. It was nice to see many of my good friends at BRBC again. While I truly do enjoy our new church, I also truly miss everyone from the old church. So I was thankful for the chance to go and spend some time with these dear ladies. Afterwards, I headed over to our new house, where Jim and our friend Elijah were busy working, and Sam was busy supervising. :) Elijah got one big section of our tile all scrubbed (where there was a film of grout on it) and it looks so much better now! Like it's supposed to look! After he left, I got Sam to sleep, then I was able to help Jim with some painting. We got both the master bath and laundry room all painted. We may do a second coat on both, but then again, we might not. We may just do some touching up here and there. I chose a color called "Parisian Taupe" that some friends had used in their house, which I liked. It's sort of between cream and tan . . . a nice mellow color. I think I may end up using it in the kitchen, too. Still not sure what I'll end up with for the living room and our bedroom, though. I don't want to use neutrals for everything, although it does make it easier to match stuff . . . but color is so much fun, and I like the idea of having some rooms with a little more "oomph", though I don't want bold, bright colors. Anyway, where was I? Oh yes, Saturday . . .
After we finished painting, we woke Sam up and came home, had supper, made muffins for Sunday School the next day, and finally got to bed. Sunday was another busy day, but we had a nice, relaxing afternoon, so that was a blessing.
I guess that brings me to today, which I already wrote about . . . so now I'm somewhat caught up!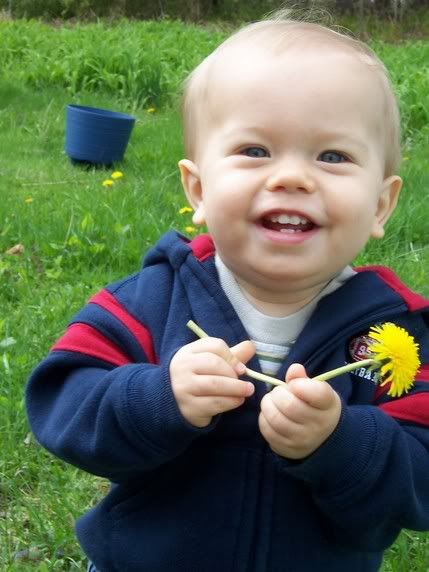 Blessings of the Week
One of the internet forums that I used to visit a lot had a regular topic each week where you could share your weekly blessings. I thought it might be nice to do that personally here, every Monday or whenever I update. I know there are many blessings that I probably take so much for granted that I forget to be thankful for them. But then there are other, special and specific things that come to mind easier. One such blessing is from last week. We were given a very nice backpack (child carrier) by some friends who are finished with it. (If you happen to be reading this, thanks once again! :)) The cool thing is that I had been recently thinking of getting one and was checking them on ebay, then later that day while I was on the phone with my friend, she offered me theirs! We have seen this happen over and over again with nearly all our baby paraphernalia (and I have no idea if I spelled that right or not!), from a pack-and-play, to stroller and carseat, to many other things over the past year. We thank God for our wonderful friends who have blessed us with their hand-me-downs! So that backpack was my specific blessing from last week. Some of my other blessings include: my sweet husband and our precious son, our new house, (our current house also, even though we complain about it a lot!), my new "No Greater Joy" and "Taste of Home" magazines that came this week, and of course, my computer, which keeps me connected to the world and in touch with everyone who reads this! Speaking of which, let me put in a plug once again for anyone to leave comments anytime! I would love to hear from any of you. Another friend told me about free hit counters so I could see how many visits I get here, but I haven't yet figured out how to get them on the site. I did try one, but I think I need to know more about HTML to figure out how to get it into the format. But hopefully eventually I'll have time to play with it a little more and figure it out.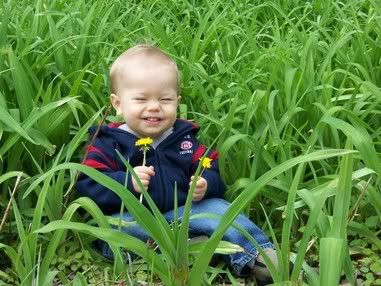 Five Fat Files
One of my favorite Christian writers, Elizabeth George (highly recommend her books, by the way!) says that she has "five fat files," meaning five areas of interest that she is trying to become an "expert" in. I think I really need to have my own five fat files. The problem is, I have a lot of interests! What would I narrow it down to? I was thinking about this a lot today. I really want to start on building these files over the next year. (And continue for the rest of my life!) Here are the categories I think I would like to work on, for starters:
Prayer
Marriage--specifically, how to be the best wife I can be
Mothering
Finances/Money Management
Herbs/Natural Living & Health--this is one I've taken more of an interest in since becoming a mommy. I find myself reading labels a lot more! We still eat too much junk food, but I do want to work on eating more natural and healthy (to a point--not overdoing it, but just studying up on it more and also finding out more about natural remedies and herbs). It looks like a fascinating study
If you could make your own five fat files, what topics would you include? Post me a comment if you have any input! :) Hint, hint . . . :)
Well, I need to go now and get supper ready. I have officially typed a book here; hopefully I haven't put any of you to sleep yet! Heading off to copy and paste my new pics of Sam into this entry . . .