What a glorious spring weekend this has been! Looking out my window to the field across the road, I can still see a couple patches of reluctant snow. But in our own yard, at least the front yard, it's gone and will not be missed. Saturday was an absolutely perfect spring day. Not a blackfly in sight . . . yet . . . and so warm and sunny! Sam and I spent the majority of the afternoon outside, taking advantage of the fresh air and sunshine. I raked up dead grass and leaves while he played and got his pants all wet from kneeling/sitting on the damp ground. Then when he started getting a bit fussy, I packed him into the stroller and we took a nice long walk.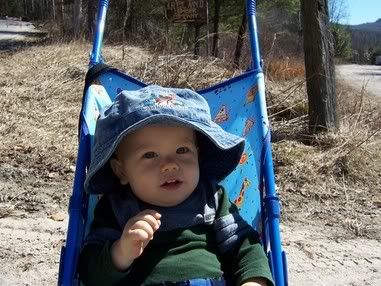 All that fresh air put him to sleep, so when we got back to the house I let him snooze in the stroller while I did a little more yard work. I really can't decide which is my favorite time of year--spring, or fall? Every year I go back and forth. It really doesn't matter! I love them both. Right now though, spring is the hands down winner. I think it's because of the newness of everything. It's like hatching out of our winter cocoon, being able to remove a layer or two of clothing when we go outside, soaking up sunshine and hearing the brooks come alive with rushing water. Checking every day to see if the crocuses have popped through in the backyard yet. Hearing robins chirping in the mornings. Hearing a tufty sing in the mid-afternoon, such a sweet call of "here here here!" I love it all!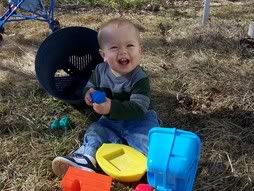 This is the time of year when I also get excited about color, for some reason. I think because spring/summer is, to me, the season of color! I've been drooling over colorful striped handbags, clothes, even those fun diapers I got last week! Even food seems more fun if it's colorful. Last week I made chicken fajitas with some nice red and green peppers . . . and another day I made a pasta salad with tricolor rotini . . .
Another thing that made Saturday the quintessential spring day was having the Red Sox game on the radio. I didn't even listen to much of it, being outside most of the afternoon, but it was fun just to have it on in the background. :)
Now, I just need to translate all this spring fever into energy to do some work INSIDE my house, instead of always having the itch to be outside!! With that, I suppose I should get busy and try to accomplish at least a little something before my little man wakes up. I hope anyone who may be reading this is having as wonderful a spring day as we are enjoying here!