Yay!! It was a good mail day here for me. :) I received 3 birthday cards (thanks!), our new checks for our "Freedom Account" came, PLUS I got fluffymail! Okay, so I am a little strange! :) For those who are wondering what fluffymail is, it means a nice soft package containing cloth diapers. So now you all really think I am weird! Yes, I guess so . . . I am just really excited because I found a good deal on some pocket dipes, plus a wool cover, just ordered them on Thursday night, they were sent out Saturday from NY, and arrived already! I got them from a work at home mom, Sandy at www.thediaperpail.com . She was awesome to work with and the dipes are really cute. I have yet to see how they fit, but they are supposed to work up to around 30 lbs, so Sam should be able to wear them for a while. He doesn't even wear cloth yet, except occasionally, but I plan to put them on him most of the time after we move and I have daily access to my own washer! We'll probably still use disposables for when we go out, though. Here's a picture of my fluffymail (hope it works):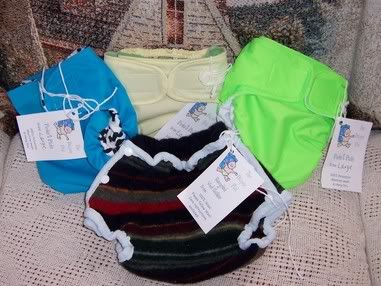 I'm not sure what Jim has planned (if anything) for my birthday tomorrow. I think we will be having a family party of some kind on Friday, after going out to dinner. Last week, he made me an early birthday cake! He's such a sweetie. He did the same as he did one other time--added Reese's Peanut Butter Eggs into the cake. Chocolate overload! It's so yummy, though. I'm kind of hoping for a shopping trip to the outlets in Tilton sometime soon. I have some birthday money and some 20% off coupons for the outlet stores, so I have the itch to shop. :)
Sam had his one year pictures done at Walmart on Friday, and they'll be done on the 19th. The photographer was in training and didn't do the best job I've ever seen, but I think they will come out cute anyway. At least he was cooperative and smiley! Here's a picture I took of him today with a couple of empty water jugs. Looks like he has a couple suitcases and is going traveling! :)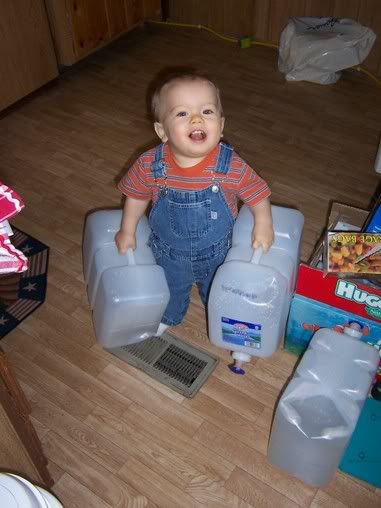 Well, I am off to post this and see if the pictures work. If not, I'll have some editing to do--still figuring this out one step at a time!