Even though it's now the day after Independence Day, I wanted to use this entry to write about the 4th of July. We had a wonderful time celebrating our country's 229th birthday! Some friends of ours hosted a big party, starting around 11:30 am. We enjoyed a cookout with hamburgers, hotdogs, chips, salads, etc. and lots of yummy desserts. Jim and some of the other guys spent some time playing softball at the ballfield across the road, then there were also some volleyball games later on, as well as Bocce. We also spent a lot of time cooling off in their very nice swimming pool. Sam hadn't taken his usual morning nap, so was fussy a lot of the time. I tried to get him into the pool with me, but he wasn't interested in going in any further than the lower half of his legs. Around 2:30, I was able to put him down for a nap, and he slept till around 5:00, which was a blessing! He really needed the rest, and it was nice for me to have a break and get to spend some time talking with friends without being interrupted. :)
After Sam woke up, we left that party and went over to Elijah's house, where his parents had invited a bunch of us to another cookout! So we really had way too much to eat yesterday! :) Sam had a wonderful time playing on their swingset, as you can see from these pictures: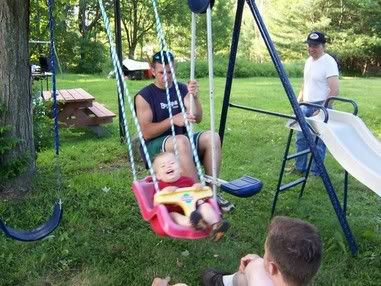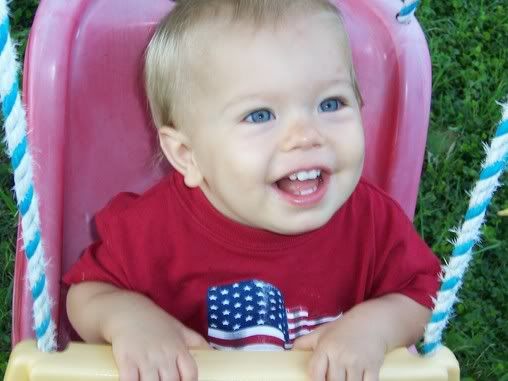 After we ate, all of us ladies and the two babies went inside and played with some toys for a while before leaving for the fireworks. The fireworks show was at a prep school just a few minutes from their house. It was a really nice one, complete with patriotic music being played over a loudspeaker to go along with the fireworks. The best part is that it was a lot less crowded than most of the town fireworks shows, making it a lot easier to get out of there afterwards! We got home by 10:15 pm and into bed not long after. Sam wasn't too sure what he thought of the big booms at first, but after Daddy covered his ears, he was OK. He even almost went to sleep by the end of the show! Here are a couple pictures from the fireworks: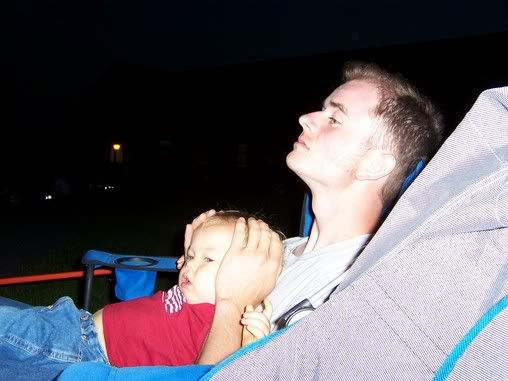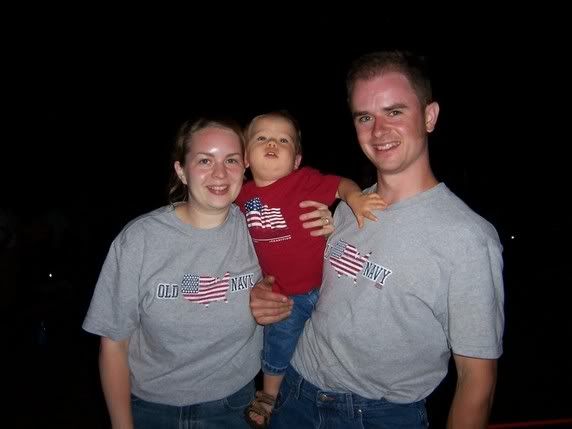 And here's one of me, with the patriotic dessert I made: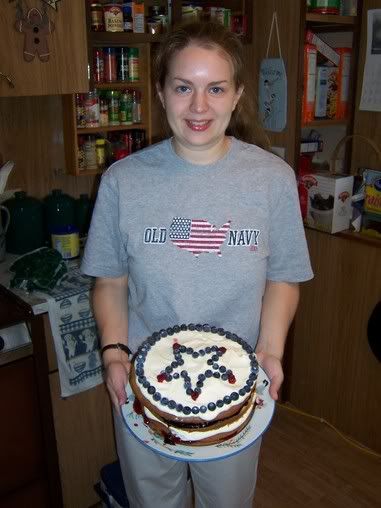 So all in all, we had a very fun and relaxing day! I hope everyone else had a very nice 4th, as well. I'll try to update more on our house and stuff, next time.